Ever Most Natural 100% Human Hair Silk Base Women's Hair Toppers
---
Every year new and improved products grace the grooming industry with their charm and elegance. You can find such a huge variety of hair toppers in the market that it seems almost impossible to come up with something new.  When it comes to human hair toppers or wigs you can never be sure when the next product would drop in the market.
There is a huge demand for human hair toppers in the global market. Women from all over the world tend to use these hair toppers to enhance their looks and personality. I was told about mysecretwig's unprocessed Brazilian virgin human hair toppers by a friend. I have tried a lot of hair toppers in the past but none of them was durable. At the end of the day I just thought that I wasted money and time however the day my friend told me about this product I have never been more happier. Now, don't get me wrong, I know there have been some amazing hair toppers in the market before but I am just saying that mysecretwigs unprocessed Brazilian hair topper is one of the best and the most durable products in the market.
It is a great product. Not only it is made with human hair, it is unprocessed which adds a lot of value to the product.  The product is only available for $189 which is a very competitive process keeping in mind the prices of other companies out there. I however believe that it is an awesome product and the price is worth it.
It is available in many different sizes.→see how to choose the most suitable size for your hair pieces
It is a huge hair topper which can not only help people looking to make wigs but it can also help other people who are suffering from hair loss. People suffering from hair loss don't have to feel bad for not being able to create the hairstyle they desire. They can purchase this huge unprocessed hair topper in order to create amazing wigs. As the hair topper is available in large size it is ideal for people looking for more coverage. One of the best things about Brazilian hair is that it can work with almost all types of natural hair so you don't have to worry about the hair matching your natural personality.
Mysecretwigs Unprocessed Brazilian Virgin Human Hair Silk Base Women's Hair Topper is actually a custom made wigs or half wig. It is an ideal solution for people who are suffering from hair loss but aren't ready to wear full wigs. They can use these half wigs or unprocessed hair toppers to cover their natural hair. Mysecretwigs unprocessed Brazilian hair topper has a very natural look to it. It is made up of virgin human hair which means that the hair has not been processed in any way and that it is available in its natural form. The hair is collected from healthy and young Brazilian hair donors. When the hair is collected the cuticles are left intact which give the hair toppers its amazingly Natural look. Well, in reality, it is real hair, just not yours but once the hair topper is on your head you have to treat it as your own hair. You have to take care of it and maintain it as you cared for your own hair.
The hair topper is ideally designed and makes for a great half wig.→see our Mayu Collection Human Hair Toppers For Women
Another great thing about this product is that it has a lot elasticity which makes it stretchy. Some people think of it as a negative point however this elasticity has helped me a lot. It made it easier for me to wear the half wig when it went out. It is not too tight that it irritates me and it is not too loose that it comes off.
When it comes to density, the real human hair is known to have more density than synthetic hair toppers. This explains the high density of mysecretwigs' unprocessed Brazilian hair toppers for women. The density is also responsible for the natural look of the wig.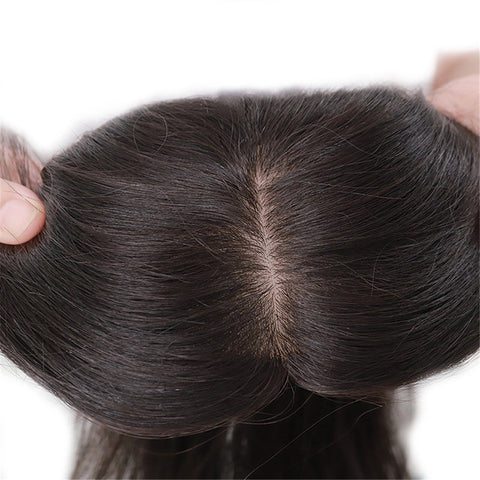 In addition to all the things mentioned above there are many other features that add value to mysecretwigs' unprocessed hair toppers. These features are the reason that their product is so popular in the market. I have tried it myself and now I want people to experience great hair styling as well. Let's take a look at some of the best features of Unprocessed Brazilian Virgin Human Hair Silk Base Women's Hair Toppers in next post.